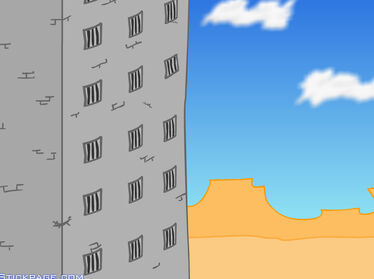 The Prison is a very tall building, placed in the desert, where Henry was incarcerated after getting caught in an attempt to break into the bank.
Escaping the Prison
Edit
The building is 15 floors high, with gray walls. There are more than 100 cell rooms, with windows. There are also a lot of offices, meeting rooms and prison wings. There is also an elevator. In front of the building there's a police car (that Henry steals in the badass ending), and when you walk in you can see security room and a billboard with some notes, and an employee of the month picture hanging from the wall.
The building and security plan is led by the Prison Chief, who carries an AK-47. The rest of workers there are casual policemen. Dave and another Prison guard guarded Henry's cell on the same floor where Repairman was fixing the pipes. A lot of other staff can be seen when Henry ends on a police meeting or when he uses the opacitator.
Fleeing the Complex
Edit
The building is also briefly seen in Fleeing the Complex when picking the Warp Star option during the "Presumed Dead" ending. The star allows Henry to escape from the truck he is in but ends up sending him crashing into the Prison.
Building details
Edit